Today, I'm thankful for antibiotics and our dear doctor friend who got the prescription for Nick's strep throat. Why is it that it takes husbands twice as long to "get better" than wives? I'll be so glad when this mess has passed.
I'm thankful that the rest of the family is healthy! Praise God!
I'm thankful to be a part of the house of prayer. What an amazing thing to soak in the presence of God and petition Him with my concerns.
I am thankful for all of the wonderful prayer warriors (like you!) who are keeping my cousin Coleman lifted up in healing! Below is an update sent from my Aunt Nona (Coleman's grandma) giving a praise report and also further prayer points. You are all amazing!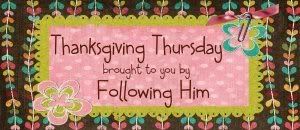 Well good news, if anything about cancer can be good news.

Coleman is in stage 2. The cancer has only shown up in his neck. More on the right side (same side that the large tonsil was) than on the left.

He will be receiving 1 treatment a week for the next two months. They will put a port in this Friday around 10:00 a.m. and start his treatments at that time. They will be putting this in his spine. They do not feel that there will be any brain damage from this since his brain is developed. Please pray that this is so.

He will be missing school for a month and then they will see about him going back to school during the second month of treatment.

The type of cancer (Diffuse Large B Cell Lymphoma) that Coleman has is the easiest treatable cancer. The doctor believes that there is a very good chance of him being cured. Thank God for these answers to prayers.

Thank you for your prayers and I only ask that you keep praying that the treatments go will and that he will not be to sick from the medicine.
Love you all,
Nona